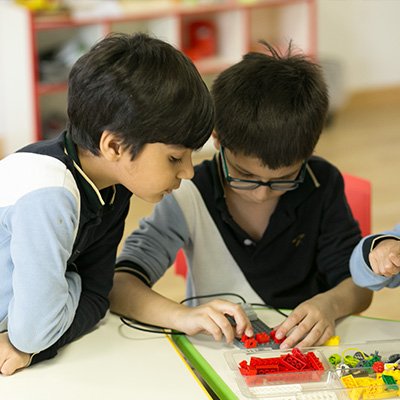 Curriculum Overview
Nordic International School Lahore offers classes for Preschool, Primary School, Middle School and O Levels.
Through our blended curriculum, we teach English, Mathematics, Urdu, and Islamic Studies in separate lessons while the rest of the program (i.e. Science, History, Geography, ICT, Art, Drama, PE etc.) is covered in interdisciplinary themed units of work. These units have been prepared for us as part of the UK based International Early Years Curriculum (IEYC), International Primary Curriculum (IPC) leading to Cambridge University International Examinations.
International Early Years Curriculum (IEYC)
The International Early Years Curriculum uses best international practices, holistic enquiry and play-based approaches that cover all curriculum areas including personal, social and emotional development.

2–5 years old


140 nurseries
47 countries worldwide
International Primary Curriculum (IPC)
It is a comprehensive, thematic, creative curriculum, with a clear process of learning and specific learning goals for every subject. It also develops international mindedness and encourages personal learning.

5 – 10 years old

730 schools
92 countries worldwide
Middle Years Programme
In Our Middle Years Programme we follow the Cambridge Curriculum requirements in all subject areas, leading to O Levels. However, our approach to teaching and learning is a more integrated approach linking subject areas. Lessons are designed to enable students to engage with authentic project -based learning, while following the content requirements for O Levels. Students are expected to and engage with learning that develops mindfulness, problem solving, creative thinking, collaboration and strong communication skills.

10 – 13 years old
Face-time Programme
In our Face-time Programme, students sit with teachers on a one-to-one basis to discuss learning and to jointly plan goals for the future. Such an approach helps students become aware of their learning needs. The teacher plays a supportive role in increasing student's confidence in seeking help.
Student Leadership and Development Programme
Our LPD programme provides students with self-confidence and skills to accelerate their ability to learn effectively, eventually becoming self-directed learners. We also equip students with the knowledge and personal skills to enable them to be successful in their dealings with others as individuals and/or groups and to become leaders in society.
Frequently Asked Questions